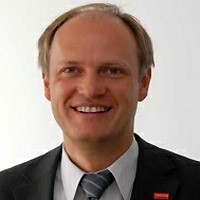 Christian Mundigler
LAMA Board Member
LAMA Board Member Christian Mundigler joined BRP-Powertrain GmbH & Co KG (formerly BRP-ROTAX) in July 2007. As Manager of Rotax Aircraft Engines & Kart Business for ROTAX Aircraft Engines Christian is responsible for marketing and product management. Before he worked as a key account manager in the electronic industry for well known OEMs in automotive, industrial and consumer electronics.
Holding a master degree in economy and mechanical engineering from the Technical University of Graz / Austria he started his career in the solar industry. One of his first projects was to realize the second biggest thermal solar plants in Europe at that time with 1,300 square meters in Helsinki / Finland in cooperation with the European Community. Following his dream of becoming a pilot Christian Mundigler passed his license for hang gliders as a student in 1991 and  recently obtained his Private Pilot license. While raising a family with his wife Rosemarie, they have two children, Dominik and Katharina, Christian's recreational focus was flying model aircraft. Other hobbies are gardening, playing the guitar and karate.
ROTAX Aircraft Engines is well known in the aviation industry since 1973 with over 170,000 units sold in total including over 46,000 4-stroke engines of the 912/914 family with 80hp to 115hp. The 4-stroke fleet has logged more than 40 million flight hours and the 26,400 912/914 engines in operation worldwide are adding 5 million flight hours every year.
Meanwhile more than 220 aircraft manufacturers are using 2- and 4-stroke ROTAX Aircraft Engines supported by a worldwide network of ROTAX authorized distributors and their service- / repair centers in more than 150 points of sale.