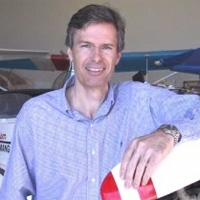 Phillip Lockwood
LAMA Board Member
Phillip began his aviation career as a graduate of Florida Institute of Technology\'s specialized School of aeronautics in 1982 with a bachelor of science in Air Commerce and Flight technology.
He has been an active pilot since 1978 with over 2,500 hours accumulated in more than 100 different types of aircraft. Phillip has much experience in the field of evaluating and improving the performance and control harmony of Ultra light and Light Sport Aircraft.
Drawing on his experience as a wildlife camera plane pilot Phillip designed and built the first Air Cam, an innovative twin-engine camera plane, for a special National Geographic research project about the Ndoki Rain forest in northern Congo. Later, Phillip over saw the development and production of the Air Cam, as a fast build kit plane, while serving as president of Leza Lockwood Corp.
Today, he serves as president and CEO of Lockwood Aviation Supply, a company he founded in 1989, now the largest Service Center for Rotax Aircraft engines in North America and a major source for all types of Light Sport Aircraft parts and accessories. Another company, Lockwood Aviation Repair, is the only FAA licensed repair station (L2DR339H) that specializes, specifically, in the repair and overhaul of Rotax Aircraft engines. Located in the same Sebring Fl facility is Phil's Flight school, Lockwood Aviation.
Since 1992 Phillip has donated much of his time to the development of improved operation and maintenance procedures for Rotax aircraft engines and the teaching of these methods.