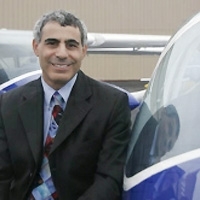 Phil Solomon
LAMA Board Member
Phil Solomon has been an active pilot since 1989 and involved in the business side of aviation since 2002. He is the part owner and CFO of Heart of Virginia Aviation Inc (a long established and well respected full service FBO), and the former CEO of Tecnam North America. He is also the owner or part owner of several aircraft leaseback companies that are active in the flight school and charter markets. As a 1,800 hour Commercial, Instrument and CFI, Phil gets to practice his passion on a regular basis.
Phil took business degrees in the UK and France majoring in Finance and Production management with a minor in law before qualifying as a Chartered Management Accountant in the UK. Prior to entering aviation full time in 2005 Phil spent 22 years in a variety of multinational manufacturing industries ranging from automobiles to toothpaste tubes. The last eleven years were spent as the Vice President Finance and IT for the world's largest manufacturer of Window films.
Phil speaks fluent French, is a black belt in Tae Kwan Do, plays various recorders in a baroque music ensemble and continues to remain active in a selection of sports including tennis, table tennis, skiing and cycling. Having started Tae Kwan Do and music well into his forties he is a strong believer that "anything is possible" and that attitude is the biggest self created barrier to overcome. A survivor of a direct hit by a tornado that destroyed his office in 2004, and an IRA bomb when a student in Paris, Phil values what he has and treasures his wife and daughter.
Phil is passionate about being involved in the revival of grass roots aviation and sees the Light Sport movement as being the single greatest step forward in his lifetime towards that goal. He feels that others are far more qualified to deal with the technical side of aviation but hopes to be able to contribute through asking the difficult questions and trying to be an articulate and constructive advocate for change and progress. He is delighted to have been asked to join the LAMA board and is looking forward to many vigorous debates with his co-members and some really positive outcomes for aviation. He has the utmost respect for all the other board members with their long pedigrees in practical aviation and is hoping to learn a lot from them.