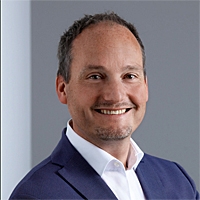 Marc Becker
LAMA Board Member
Marc Becker joined the LAMA board of directors in 2018 upon unanimous decision of the current board members.
He is the responsible manager for the aircraft business of BRP-Rotax GmbH & Co KG, headquartered in Gunskirchen, Austria. Becker started this role in 2014 and is a business unit lead with profit & loss responsibility. He is part of the management team and charged with strategic development for the global sales and service network for Rotax Aircraft Engines. Becker's activities include global business development with major aircraft manufacturers (OEMs). He is also involved with management of key accounts and ordering department.
Before joining Rotax, Becker was Sales Director for Beechcraft Berlin at the Berlin Airport in Schönefeldfrom 2012 to 2014. He was in charge of sales of all maintenance and upgrade related projects, sales of special mission aircraft modifications, business development for the maintenance business, and was key to establishing company marketing as a member of management board.
Between 2003 and 2011 Becker worked at AneCom AeroTest, a company based in Wildau near Berlin,and a spin-off of the aircraft engine manufacturer Rolls-Royce. The company supports development and optimizations of jet turbines and industrial gas turbines around the globe. There he held various positions in the project management and sales and in the last 6 years served as VP Business development and head of Sales of Marketing for the whole business.
Previously he worked with Airbus industries in Hamburg Germany and served an officer in the German Air Force
Marc Becker is a Chartered Engineer in Aerospace Engineering from Fachhochschule Aachen and earned an Intermediate Diploma in Aerospace Engineering from Bundeswehr University in Munich, Germany.
Today, Becker uses his deep experience in business development in an international high techenvironment with a focus on international sales, new technical developments, and new areas of strategic marketing with a technical focus. His areas of particular expertise include aircraft engines both jet and piston, business and small aircraft types, and industrial/stationary gas turbine powerplants.
With more than 185,000 engines sold in 40 years, Rotax Aircraft Engines is the worldwide leader in powerplants for Light-Sport Aircraft and the global light aircraft industry. With 18 authorized distributors and a network of more than 250 points of sale, Rotax supports customers worldwide and supplies Rotax aircraft engines to more than 80% of all aircraft manufacturers in its segment.
—Updated 15 March 2019